Building the Eurasian Information Silk Road
An exclusive interview given by Charlie Cao, Managing Director of China Telecom Europe Ltd ('CTE') on February 15th 2019 by UK Chinese Times
Charlie has nearly 20 years of experience in the telecommunications industry, giving him deep and detailed knowledge. Based in London for the past 8 years, he is responsible for driving China Telecom's business growth in Europe and continuously enhancing CTE's position as a leading integrated communications service provider connecting Europe and Asia.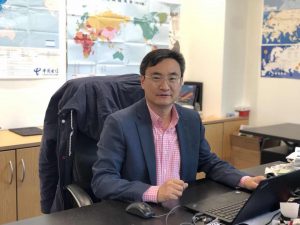 UK Chinese Times: What's the current status of China Telecom's development in Europe?
Charlie Cao: We now have 18 branches and regions in Europe. Whether it's local solutions for European companies or global solutions for Chinese companies, CTE always follows the principle of "Customer First, Service Foremost". We aim to provide the best possible solutions for European companies by building on our strengths in Asia. At the same time, by benchmarking ourselves against our rivals, we're constantly improving our service levels and providing a new choice for local enterprises.
China Telecom is committed to building the "Eurasian Information Silk Road". What progress are you making?
Charlie Cao: Before 2006, the communication solutions between Europe and Asia were mainly provided by operators in Europe and America. They all relied on submarine cables to enter the Mediterranean Sea through the Atlantic Ocean, and then to the Indian Ocean and the Straits of Malacca to enter China. This takes a long time.
After the establishment of CTE in 2006, we found that land cables can be shorter than submarine cables. As a result, China Telecom and its partners proposed a new Eurasian communications solution that continues to expand new routes between Europe and Asia.
We now have seven different land routes through Kazakhstan, Mongolia and the Russian Far East. In order to ensure a diversity of routes, we also provide direct access to the Indian Ocean through Pakistan; land cables through India, Laos and Thailand; and even some new routes, such as crossing Afghanistan, Kazakhstan, the Caspian Sea and the Black Sea.
These different routes increase the diversity of connections between Asia and Europe, meeting the different needs of different regions and users. They mean that our Information Silk Road comprises both land and submarine solutions.
How does CTE give its customers a better international communications experience?
Charlie Cao: The main purpose of the Information Silk Road is to meet the needs of European and Asian customers, especially the financial industry. High-frequency trading relies on delays being kept down to milliseconds. Most ordinary users will accept a delay of 70-80 milliseconds. In the financial industry, that would be unacceptable, as dealing needs to be near-instantaneous. CTE is very aware of its routing advantages and will recommend advantageous routes based on user needs. We continue to build and optimise our routing solutions for customers.
How does CTE intend to grow its communications business in Europe?
Charlie Cao:  CTE relies on submarine and land cables to provide services to meet long-standing user needs – shorter transmission times, better service response, tailoring our resources to solve user communication needs, and continuous improvement. We use our products and services to attract users and then we grow with them. We're looking to do that in all regions of Europe. We want to strengthen our business by reinvesting in the European communications market, further expanding our personnel and services.
What can we look forward to seeing in CTE over the next few years?
Charlie Cao: In the short term, our goal is to continue to improve building our team and strengthening our infrastructure. The long-term development goal is to become a world-class service provider, leveraging our resources, infrastructure, platforms and hubs in the Asia-Pacific region to achieve global access for the network.
What other advantages does China Telecom Europe offer over other operators?
Charlie Cao: In addition to the advantages of the Information Silk Road, we are also committed to better service response. We have all the advantages that other Chinese companies have, and our people are more diligent and respond faster. In some important ways, we do better than the local operators.
What about customer service for public customers?
Charlie Cao:  We have a global customer service centre in Hong Kong, which provides support languages ​​including English, Chinese, Japanese and Cantonese. In the event of a network failure, the Global Network Maintenance Operations Centre is able to respond rapidly at any time of day or night.
What are the main challenges to the development of the business?
Charlie Cao:  It takes time for Chinese companies to grow internationally and find the solutions that work for them. Those solutions also need to work with the local market – different markets have different operating requirements. It's also a challenge for them to build a sustainable business model. In particular, it's hard for them to match manpower and material resources.  Finally, it takes time to build a reputation and overcome audience's preconceptions.
中文
建设"欧亚信息丝绸之路" ——专访中国电信(欧洲)有限公司总经理曹力
总部位于伦敦的中国电信欧洲有限公司(CTE)成立于2006年,为中国电信国际公司(CTG)的一个分支机构,负责管理欧洲业务。公司致力于建设和发展"欧亚信息丝绸之路",利用多条横跨亚欧大陆的独立海陆电缆以及CTG广泛的国际基础设施组成了最先进的欧亚网络 (ENs)。作为在欧洲布局最广的国有中资电信服务商,CTE在欧洲分布了18个分支机构,凭借弹性、速度和多样化的服务,为客户提供世界一流的语音、数据以及ICT综合通信解决方案,以满足中欧跨国企业和海外中国消费者日益增长的全方位通信需求。
中国电信欧洲有限公司总经理曹力拥有近20年的电信行业深度知识和经验,负责推动中国电信在欧洲的业务增长,并不断提升CTE作为连接欧洲和亚洲的领先综合通信服务提供商的地位。由于工作需要,曹力需要常驻伦敦,今年已经是他第八年在伦敦过春节了。
记者 谭雅心
英中:中国电信在欧洲的发展现状如何?
曹力:目前,中国电信在欧洲共有18个分支机构和地区,无论是对于欧洲当地的通讯解决方案,还是中资企业的通讯解决方案,中国电信欧洲一向秉承"为用户提供多一种选择"的宗旨和态度,通过在亚洲地区积累的资源,为欧洲本地企业提供最领先、最直接通讯需求解决方案。同时,通过利用和其他通讯服务商的比较和竞争,不断提高自身的服务水平,为本地企业提供一个新的选择。
英中:中国电信致力于建设"欧亚信息丝绸之路",您能具体介绍这条信息丝路的独特之处吗?
曹力:2006年之前,欧洲与亚洲之间的通讯解决方案还是以欧美的运营商提供为主,且都是依靠海缆,通过绕大西洋进入地中海,再到绕到印度洋、马六甲海峡才能进入中国,这需要很长时间。2006年中国电信(欧洲)有限公司成立之后,我们发现陆缆比海缆距离更短。因此,中国电信和合作伙伴提出了新的欧亚通讯解决方案,不断拓宽欧洲到亚洲之间新的路由。我们现在有七条不同方向的陆缆以及穿过哈萨克斯坦、蒙古和俄罗斯远东的路由。为了保证国家通讯多样性,我们还提供穿越巴基斯坦直接进入印度洋,进入欧洲的路由;穿越印度、老挝和泰国的陆缆,甚至还有一些新的路由,如穿越阿富汗、哈萨克斯坦、里海和黑海进入欧洲等。这些不同的路由提高了亚洲和欧洲之间连接的多样性,提供了满足不同区域和用户不同需求的路由,并为陆上丝绸之路和海上丝绸之路都提出了不同的解决方案。
英中:中国电信欧洲采用了哪些手段和方法优化企业跨境网络体验?
曹力:中国电信提供欧亚陆缆的主要目的就是为了满足欧洲和亚洲大陆连接的需求,特别是对于金融行业和高频交易,每一个毫秒都影响收益。普通用户上网可以接受的等待时间是70-80毫秒,对于金融行业来说,时延上相差一点,就会在业绩上受到很大影响。中国电信欧洲非常了解自己的路由优势,会根据用户的需求推荐有优势的路由。另外,中国电信也一直持续优化、改进、新建一些客户更为敏感的路由资源。
英中:中国电信欧洲在欧洲拓展通讯业务的发展策略和模式是什么?
曹力:中国电信欧洲依托海缆和陆缆,长期以来提供满足用户需求的服务,包括缩短传输时间、提供更好的服务响应、通过资源更好地解决用户的通讯需求等,同时通过不断优化自身的产品及服务来吸引用户、拓展业务。我们希望欧洲各个区域在发展的过程中,在服务中资的基础上,关注本地客户。我们的目标是自我发展,不断壮大,将收益和业务力量再次反投入到欧洲通讯市场,进一步扩大人员和服务支撑。
英中:中国电信欧洲未来几年的发展规划是怎么样的?
曹力:在短期看来,我们的目标是继续完善团队建设及基础设施等问题。长期的发展目标是打造全球一流的服务供应商,依托亚太地区大平台、大枢纽、大通道的电信资源,实现网络全球可及。
英中:与其它运营商相比,中国电信欧洲提供的服务有什么优势?
曹力:除了丝绸之路沿线的优势之外,我们还致力于更好的服务响应。我们具备大部分中资企业都具有的优点,我们的人员更加勤奋,响应的时间更快。在一定程度上,我们这一点比当地的一些运营商要做得更好。
英中:在服务公众客户方面,如何保障用户的体验?
曹力:我们在香港设有全球客服中心,提供四种语言,包括英文、中文、日文和粤语。全球网络维护运营中心能够保证全球24小时有故障时,我们可以及时响应。
英中:在目前的发展过程中最主要的困难是什么?
曹力:中国的企业走出来还是需要时间,需要一个国际化的过程。解决方案、内部处理流程和产品是否完全适用于本地市场,是一个需要考虑的问题。另一问题还是生存及自我发展的问题,人力和物力的匹配还没有达到很高的程度,所以某些业务还不能做得尽善尽美。再者,由于受众观念及市场运作环境的差异,当地用户的认知问题依然存在,这些都需要一定的时间去改善。
(中文来源:英中时报)