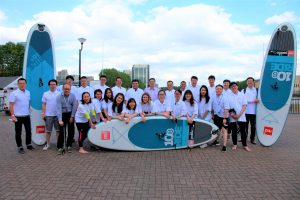 China Telecom Europe (CTE) takes its reputation as a responsible company very seriously. As a Chinese company keen to build strong local relationships, that responsibility includes caring for the local environment. To protect and improve the area close to their London Docklands offices, the CTE Corporate Social Responsibility Charity Group organised the second annual river clean-up around Millwall Dock, on 2 July 2019.
The clean-up campaign helped reduce water pollution in London and get rid of some of the waterborne rubbish that endangers the lives of the birds, fish and river animals that live in and near the river.
26 employees from all departments, led by CTE's London management team, took part in the charity clean-up. Employees used litter pickers and nets to collect and clear debris from the water. More than two hours later, they were very wet, and they'd collected a total of 8 bags of rubbish, weighing around 5.1 kg.
It was a great opportunity for employees to make a real difference to the environment, while working with colleagues they might not normally see. Yang Shanyi, from Hong Kong, who works in the Human Resources Department, said: "The company organised this event to take care of our local area. And it helped enhance our company's image. I really enjoyed working with my colleagues. I think now we'll have a better working atmosphere and improved understanding between departments."
CTE plan to make the river clean-up an annual event. They hope to organise and take part in more activities in the same spirit of serving the local community and protecting the environment, part of their commitment to corporate social responsibility.
中国电信(欧洲)有限公司组织2019年度清理水上垃圾公益环保活动
为了保护社区环境、树立负责任的企业形象,中国电信(欧洲)有限公司(以下简称欧洲公司)于2019年7月2日开展了以"保护环境,服务社区"为主题的企业社会责任公益团建活动。
欧洲公司驻地毗邻泰晤士河支线河道。河道沿线漂浮的水上垃圾对该片区栖息的禽类和水生物构成威胁。作为'走出去'的中资企业,中国电信欧洲公司也将保护所在地环境和自身的企业社会责任紧密结合起来。这是欧洲公司第二次组织开展水上垃圾清理活动,旨在为减少伦敦水污染贡献一份力量。
在公司管理层的支持和号召下,公司各部门员工共26人 参与了本次公益活动。员工们使用垃圾钳和漏网收集、清理水上垃圾。经过两个多小时的水上作业,收集垃圾共8袋,总重约5.1公斤并对垃圾进行了分类处理。
通过此次活动,员工们在提升部门间协作能力的同时也提升了员工自身的环保意识。综合与人力资源部香港员工杨善宜说:"公司组织本次活动一方面积极助力社区环保事业的开展,另一方面也有助于提升企业形象。我切身感受到同事间的通力协作,我也相信这将有利于营造更好的工作氛围,使同事间的工作配合更加默契。"
未来,欧洲公司将继续秉承服务社会、保护环境的精神,积极组织和参与各类社会公益活动,尽力将水上清理垃圾的公益活动作为一个传统保持下去,在履行企业社会责任方面做出不懈努力!