On 27th September 2018, CTE Managing Director, CCCUK Vice-Chairman Charlie Cao joined Ambassador LIU Xiaoming and Mme HU Pinghua, Minister Brandon Lewis, CCCUK Chairman SUN Yu, and over 600 guests at 2018 National Day Reception, organised by the Chinese Embassy in London.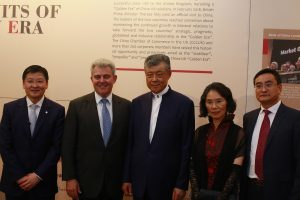 Marking the 69th Anniversary of the Founding of the People's Republic of China, Ambassador LIU gave a warm welcome speech to all guests.
CTE also exhibited at the Chinese Enterprises' Economic and Trade Achievements Expo hosted by CCCUK at the Reception.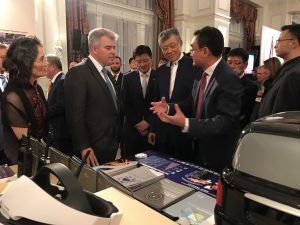 In picture: CTE Managing Director Charlie Cao answering Minister Brandon Lewis' questions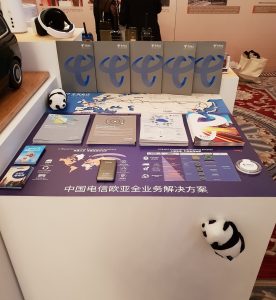 CTE has an extensive global network providing services than span the world. We offer more options than any other carrier when you do business with China.
As the most widely deployed state-owned Chinese communications service provider in Europe, CTE has established 18 branches across Europe to date, covering Russia; Belarus; the Baltic States; the Nordic countries; the Benelux region; all Western European countries such as Britain, France, Germany and Italy; as well as expanding to Eastern European countries and the Balkans.
CTE provides customers with integrated solutions and world-class services, including voice, data, and ICT solutions, meeting the growing communication demand of Chinese and European multinational enterprises, as well as Chinese consumers overseas with flexibility, speed and diversity.
With our commitment to advance the China-UK "Golden Era", CTE will continue developing a "Digital Silk Road" that links Europe and China.
Media Contact:
Naomi Hope
Tel: +44 (0) 7422 930 631
[email protected]