China Telecom (Europe) Ltd. opens new branch in Zürich, Switzerland
China Telecom (Europe) Ltd. is strengthening its presence in the heart of Europe by opening a branch in Switzerland. The new office China Telecom (Europe) Limited, London, Zweigniederlassung Zürich opened on 21 November 2019.
At the launch ceremony, the CTE team welcomed over 100 thought leaders and industry representatives from local Swiss operators and the Chinese Embassy in Switzerland. Guest speakers included Lukas Huber, Director Asia, Deputy Managing Director from Greater Zurich Area; Manfred Götz, Chief Information Officer of Bühler AG; and David Gong, Managing Director of China Construction Bank.
Jie He, General Manager of China Telecom (Deutschland) opened the event. He said: "Our Switzerland Branch will provide our clients all over Europe with the wide variety of customised solutions and professional services they need to support their global business growth. They'll be joining our customers around the world who benefit from our winning combination of seamless network coverage, comprehensive high-quality telecommunications services and the capacity to connect across Europe, China and the world."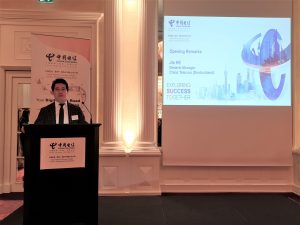 Jing-Chun Wu, Economic and Commercial Counsellor from the Chinese Embassy in Switzerland, welcomed CTE to Switzerland. He said: "China Telecom, one of the three major telecom operators in China, contributes to the positive development of relations between our two countries, fostering mutual co-operation and shared prosperity. Now China Telecom's Swiss office will make CTE's communications solutions and network integration services available to all Swiss companies, especially those interested in entering the Chinese market."
Guest speaker Manfred Götz, Chief Information Officer of Bühler, talked about his company's long-term cooperation with CTE and the benefits of CTE's MPLS connection.
Closing the ceremony,  Joanna Yu, Deputy Managing Director of China Telecom (Europe) Ltd. said: "Switzerland's prosperity and scientific innovation are particularly noticeable here in Zürich. That makes it an excellent base for us. We can continue to expand globally and across Europe and build even stronger Chinese-Swiss relations."
About China Telecom (Europe) Ltd.:
China Telecom (Europe) Ltd. (CTE) provides integrated telecoms and communications services as local solutions for Chinese companies and global solutions for multinational corporations. CTE's unrivalled knowledge of the Chinese market, and regional offices across Europe, make CTE an ideal partner for European and Asian businesses looking to work in China and Asia.