China Telecom (Europe) Ltd. strengthens UK-China relations in the Year of the Rat
China Telecom (Europe) Ltd. (CTE) is committed to the local communities we live and work in. On 26th January, London celebrated Chinese New Year also known as the Spring Festival – chunjie (春节) at Trafalgar Square. This is the 18th consecutive year for the event. Launched by London Chinatown Chinese Association (LCCA), it has become one of the largest Chinese New Year celebrations outside of Asia with 700,000+ attendees this year according to the Daily Mirror.
Crowds at Trafalgar Square for Chinese New Year Celebrations 2020
Charlie CAO, Managing Director and Alex SUN, Deputy Managing Director from CTE. were invited to open the celebration by LCCA. Mr CAO also took part in the 'Lion's Eye Dotting Ceremony' with other distinguished guests to 'dot the eyes'. In traditional Chinese culture, the dotting of the Lion's eyes represents giving life to the Lion. The Lion itself is a symbol of happiness and prosperity.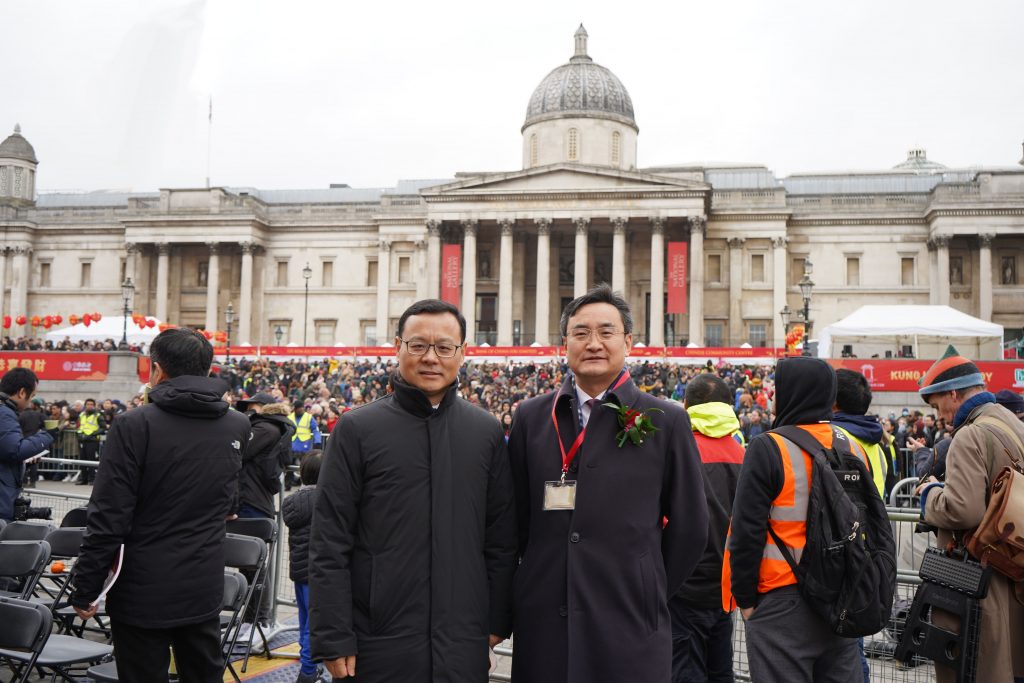 Charlie CAO (right) and Alex SUN (left) at Trafalgar Square
Other notable guests at the event included Chu Ting TANG OBE, Chairman of LCCA, Xiaoming LIU, the Chinese Ambassador to the UK, Ruth Bush, the Lord Mayor of Westminster and Debbie Weeks-Bernard, the Deputy Mayor for Social Integration, Social Mobility and Community Engagement.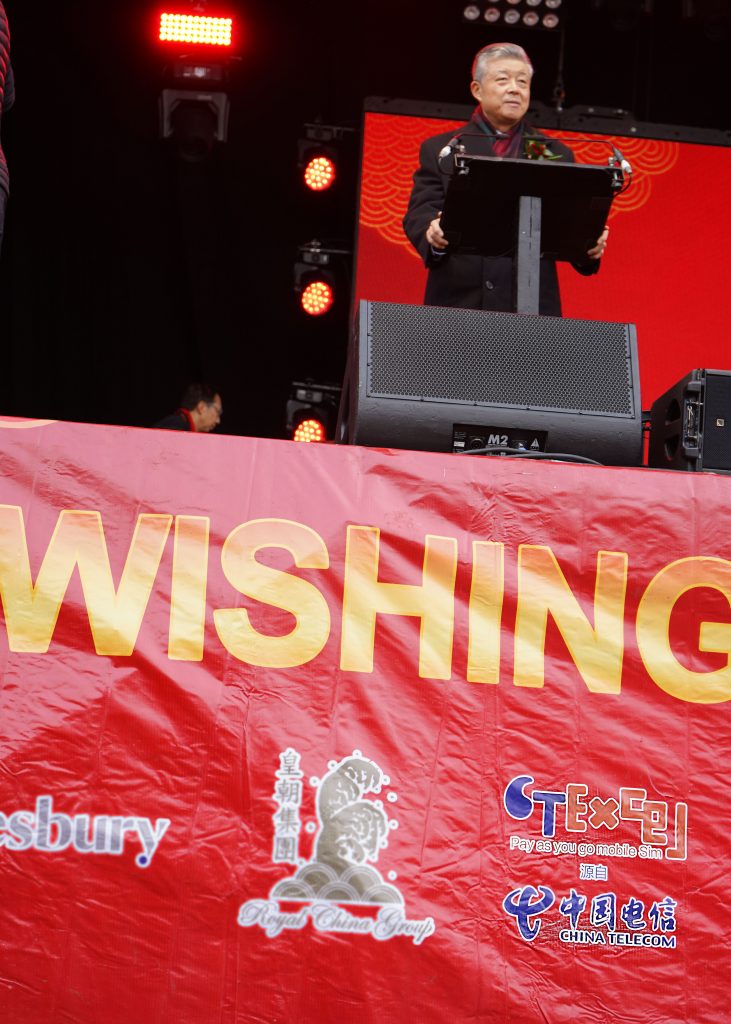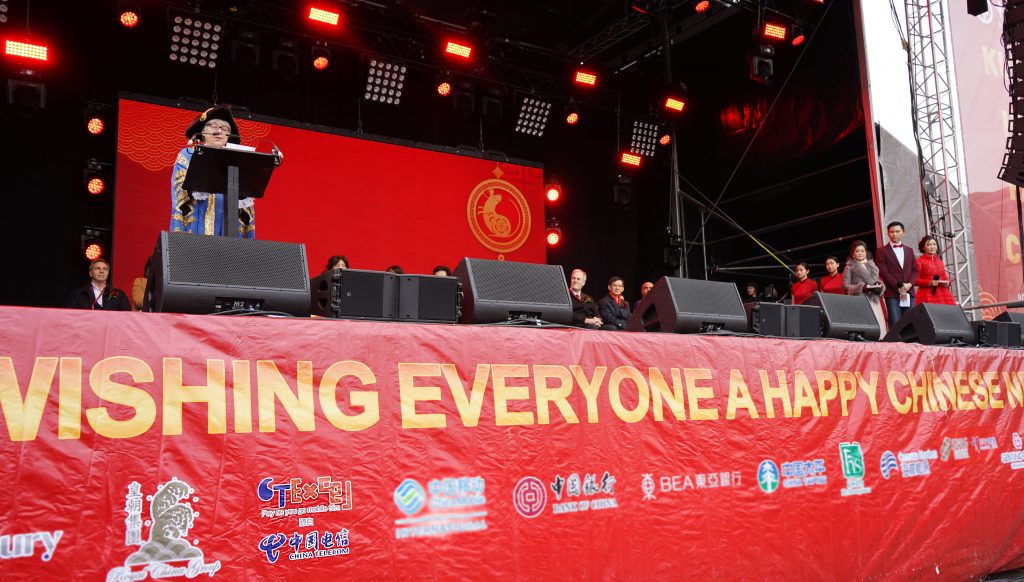 Xiaoming LIU (left) and Ruth Bush (right) speaking on stage at Trafalgar Square
Xiaoming LIU, the Chinese Ambassador summed up the ceremony well in his speech by saying "This year marks the beginning of the third decade of the 21st century, taking the world into a new era. This year is also the fifth anniversary of the 'Golden age' of UK-China relations… This new point indicates that future cooperation between the two countries will be huge and promising".
The celebration was an opportunity for CTE to enhance UK-China relations and support the prosperity of Chinese and British businesses who do cross border trade.  CTE is committed to providing reliable and secure telecommunication solutions connecting the two countries.
Chinese New Year celebration activities were seen throughout Trafalgar Square and Chinatown. During the day there were dragon and lion dances, vibrant parade floats, and beautiful displays that commemorated the Year of the Rat. In Chinatown, CTExcel, the mobile arm of CTE held celebrations together with their distributors, PC Express Telecom and MP Mobile.  Giveaways and prize draws were given to happy participants.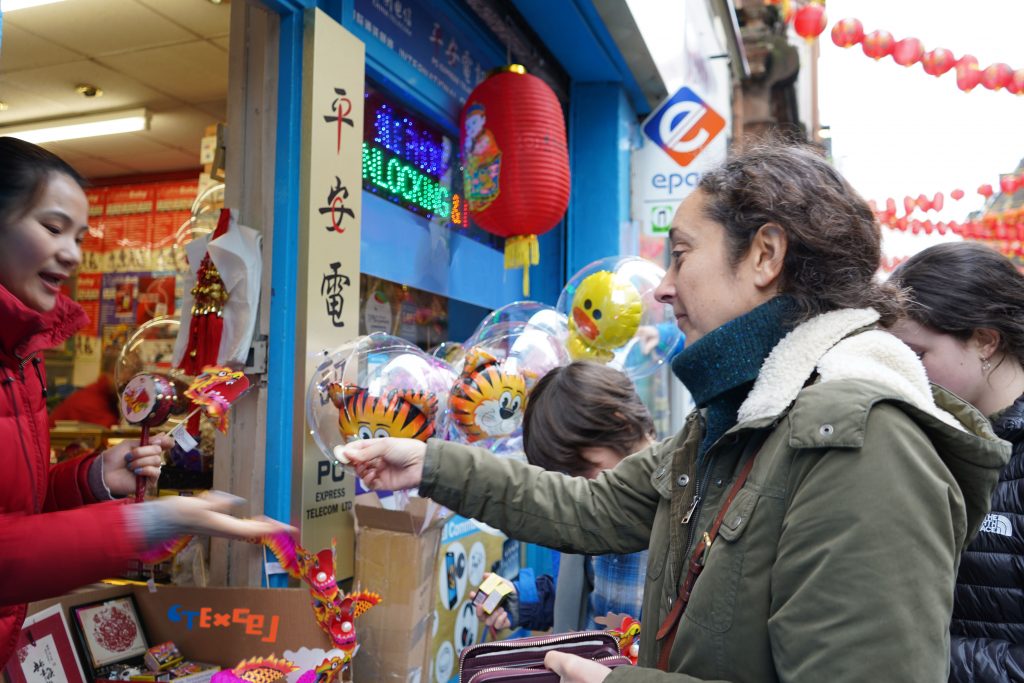 CTExcel at local distributors in celebration of Chinese New Year
The CTExcel team also gave out exclusive offers for topping up CTExcel mobile plans. CTExcel helps keep family, friends and colleagues connected between the UK-China using a single SIM card. The team spoke to the crowds about the benefits of staying connected easily with CTExcel mobile. The exclusive offers are still available until the 30th January 2020 at PC Express Telecom and MP Mobile.  To find out more about CTExcel visit us here.