In future, every Benelli motorcycle will have an on-board automatic diagnostic system installed as standard, supplied by China Telecom (Europe) Ltd. (CTE). Benelli, Italy's oldest motorcycle brand, announced their new Europe-wide partnership with CTE at EICMA, the world's largest motorcycle fair, this November.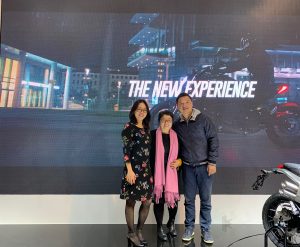 The new diagnostic system will give drivers essential data whenever they need it and wherever they are. A Benelli spokesman said, "Our latest models, the Leoncino 800, Leoncino 800 Trail and the new TNT600, all feature new designs and new technologies. They deliver superior performance, a more advanced set-up and a more refined appearance. Now CTE's intelligent on-board automatic diagnostic system will allow owners to remotely monitor location, safety status, route and altitude, and see video data of their motorcycle. They'll get information on fuel and oil levels, insurance reminders, and so much more. This extra intelligence means drivers and passengers enjoy a better driving experience. Our major dealers and users are already telling us they love this new system."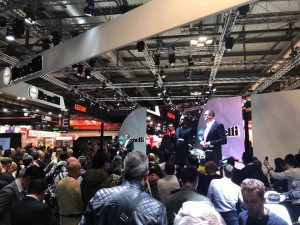 Lin Xiaokai, general manager of CTE's Italian branch, described the on-board automatic diagnostic system on Benelli motorcycles as being like the black box on an aircraft. The system, an electronic integrated induction module, connects by satellite to provide real-time data through the 5G Internet of Things. The user interface allows drivers to see and react to the information on their mobile phones. This is a significant breakthrough for improving the safety of drivers and passengers, preventing theft and reducing insurance costs.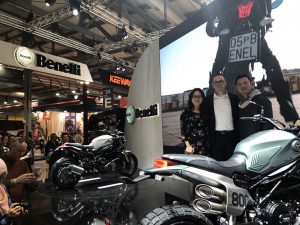 Xie Hui, head of mobile business of CTE, explained, "Now, if you forget where you've parked your motorcycle, you can find it with your phone. If you forget to lock your motorcycle, you can lock it automatically from your phone."
The era of 5G Internet of Things has truly arrived. And, as part of their continuing contribution to the global IoT industry, China Telecom is at the forefront of developing technologies to add 5G IoT configurations to consumer and business products, making them more convenient and user-friendly.
Notes:
About China Telecom (Europe) Ltd.
China Telecom (Europe) Ltd. (CTE) provides integrated telecoms and communications services as local solutions for Chinese companies and global solutions for multinational corporations. CTE's unrivalled knowledge of the Chinese market, and regional offices across Europe, make CTE an ideal partner for European and Asian businesses looking to work in China and Asia.
www.chinatelecomeurope.com
About Benelli
Benelli, Italy's oldest motorcycle company, has partnered with Qianjiang Group, China Telecom (Europe) Ltd. and Gosuncn Technology Group in Europe to jointly expand their global sales. The Benelli Leoncino 800, which debuted at this year's EICMA motorcycle exhibition in Milan, combines exquisite technology and the concept of continuous innovation, opening a new chapter in the second generation of Internet of Vehicles.
www.benelli.com/